On 23-24 March 2022, Skopelos is welcoming DIODOS, the Mobile Unit of Magnesia for Mental Health. "Spyrou Skopelos Experience" deeply understands its humanitarian work and we highly support it, offering to its Health Personnel free stay at our hotel Rigas Hotel Skopelos for years. Please read the following Press Release by the non-profit NGO DIODOS.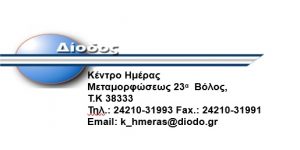 Volos, 11/3/2022
In the context of the cooperation between the Mobile Unit of Magnesia for Mental Health and the Health Centers of Northern Sporades islands, we announce its visit at the Health Center of Skopelos on the 23-24, March 2022.
Under the supervision of the Ministry of Health and the non-profit NGO "DIODOS" and funded by the NSRF 2014-2020, the Mobile Unit promotes the monitoring and assurance of Mental Health for adults who are excluded from relevant structures.
It brings mental health even to the most remote areas of Magnesia region, as well as promotes the awareness of the healthy population, through actions and psychosocial intervention.
It consists of:
Psychiatrists

Psychologists

Social Worker

Nurse
The Services are provided free of charge at Health Center premises. The imminent visit is: Skopelos Health Center (Chora Skopelos), 23-24 of March 2022, upon appointment.
Telephone contact: +30 6936586658
We warmly thank the Municipality of Skopelos as well as the Direction of the Skopelos Health Center and the rest health personnel for supporting our community work and for all their assistance provided.
Furthermore, we would like to thank the ferry company HELLENIC SEAWAYS for its kind sponsorship of the tickets for the transport of the interdisciplinary team as well as the vehicle from and to the Northern Sporades islands throughout the program.
Our stay in Skopelos is a sponsorship by Rigas Hotel Skopelos, member of "Spyrou Skopelos Experience" which we heartily thank for the immediate response and coverage of accommodation expenses of the Mobile Unit of Magnesia throughout the program.
We would like to emphasize the significance of the above sponsorships as without them, the implementation of the project of providing services of Mental Health in the Northern Sporades islands would not be possible.