"Health First" Certification: Spyrou Skopelos Experience welcomes its guests to Skopelos with safety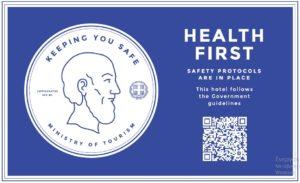 Rigas Hotel Skopelos, a member of the Spyrou Skopelos Experience hotel group, has received the "Health First" certification by the Hellenic Chamber of Hotels, a mandatory prerequisite for all hotel companies that will operate in 2020.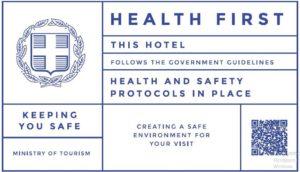 Rigas Hotel Skopelos is one of the first hotels in Greece and the very first in Skopelos  to receive the Health First certification by the Hellenic Chamber of Hotels which confirms that the hotel implements all the national health safety protocols against COVID-19, continuing its uninterrupted operation.
Following a joint decision by the Ministries of Health and Tourism (1881/29.5.2020, Government Gazette Β΄2084/2020), the Rigas Hotel Skopelos complies with the Special Health Safety Protocol in accordance with the instructions of the National Public Health Organization and the Ministry of Tourism for the protection of public health against COVID-19.
The introduction of the "Health First" Certification, which will be mandatory for all accommodation businesses operating in the year 2020, stands out in the relevant Joint Ministerial Decision. The certification must be placed in a conspicuous place to attest that the company complies with the Health Safety Protocols.
At the same time, Spyrou Skopelos Experience announces the reopening of 2 more of its lodgings in Skopelos. From June 19, 2020 Blue Green Bay welcomes its guests back to Panormos Bay, while on July 1, 2020, Skopelos Holidays Hotel & Spa will open in Skopelos Town.
The coordinators for supervising the implementation of the Action Plan, those responsible for the observance of the Protocols for each individual section of the hotel, and a large number of the existing staff of Spyrou Skopelos Experience have attended special seminars by two accredited training providers and have received the relevant certificates.
With the health and safety of its guests and staff as its main priority, Spyrou Skopelos Experience implements a complete Health and Safety Plan, in accordance with the guidelines of the World Health Organization and the Ministries of Health and Tourism of Greece and provides for all measures, standards and safe operation procedures for all sections of its hotels.