If you need a break from your daily routine and looking for an escape to an evergreen destination, then pack your suitcase, take your dog and go for Skopelos!!!
Skopelos is a beautiful island that blends the green of nature with the deep blue sky and the turquoise sea. It has a very rich natural environment, majestic lush mountains, amazing beaches, and spectacular landscapes that make it an ideal holiday destination with your dog.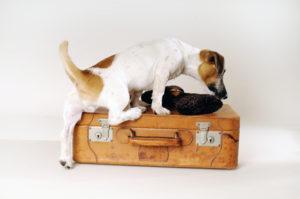 Activities with the dog in Skopelos
Take a walk in Skopelos Town
A traditional island town with unique architecture and beautiful cobbled streets for endless walks with your dog. It is built amphitheatrically and the houses are very close to each other. Among them there are numerous small churches, each with its own unique beauty and history, while bougainvilleas give the town a picturesque Greek color!
Nature Excursions
Skopelos gives visitors the opportunity to get close to nature. Get to know the island by taking beautiful walks in its forests and see many of its sights and historical monuments. Some routes that will impress you are the ones to Palouki Mountain, Aghios Taxiarchis and Agia Anna. There, you have the opportunity to enjoy a breathtaking view as well as the Keramoto Trail near Glossa town that is well worth walking.

Pet friendly beaches in Skopelos
Velanio Beach
Next to the beach of Stafylos, you will find Velanio beach. When swimming in the waters of Velanio you only see the beach and the slope with the dense pine forest. Velanio is the only official nudist beach in Skopelos. On the right side of the beach there is a beautiful cave, while on its edge you will find water dripping from the rocks, a sign that there were baths here in Roman times.
Panormos Beach
Panormos beach is one of the most beautiful beaches on the island. It is embraced by dense vegetation with most of it covered with pebbles. Its main feature is its crystal-clear water that allows you to observe every detail of the bottom. Along the beach there are hotels, restaurants and tavernas offering the visitor the most relaxing vacation. It is worth enjoying your bath here while the sun sets for a breathtaking view!
Where can I stay with my dog in Skopelos?
All Spyrou Skopelos Experience hotels are Pet Friendly. You can stay in Rigas Hotel for a traditional nature escape or Skopelos Holidays Hotel & Spa for a more elegant holiday. Rigas Hotel is the only hotel of the group that stays open all year round. Pet Policy for Spyrou Skopelos Experience