21/07/2021
Check the most recent epidemic and vaccinating status of the island by clicking here
Skopelos is the paradise of the Northern Sporades. It is a very beautiful island that combines the intense green of nature with the deep light-blue of sky. It provides rich natural environment, green mountains, crystal-clear waters and exceptional landscapes which make the island an ideal destination for vacation.
However, these are not the only reasons that make this beautiful island the absolute destination for this summer. In accordance with the most recent statement of the mayor of Skopelos, Mr. Stamatis Perissis, the beginning of this summer (2021), Skopelos continues to be a covid-free island and is regarded as one of the top destinations of Thessaly thanks to the continuous effort of local authorities and citizens. The Municipality of Skopelos, having taken the proper initiatives, contributes significantly to the protection and defense of the island with a notably high rate of its citizens having been vaccinated.
Epidemic map of Greece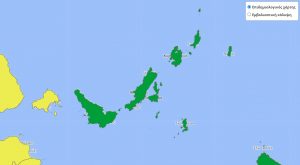 The epidemic map (click on the link to learn about the cases and vaccinations in real time) consisted of four levels of readiness corresponds to 4 colors (red, orange, yellow and green), based on the epidemic rates used by the European Centre for Disease Prevention and Control (ECDC) and the World Health Organization (WHO). The map is updated on a weekly basis at a Regional unity level, and especially for the islands at a Municipality level.
The purpose of the epidemic map is, on the one hand, the constant update to both Greek citizens and visitors from abroad coming to our country and on the other hand, the connection of the readiness levels with the public health measures. The map is updated on a weekly basis by the group of epidemiologists of the Committee of the Experts of the Ministry of Health in collaboration with the National Organization of Public Health (EODY) and the Ministry of Civil Protection.
According to this specific map, quite a few islands are green, thus being considered as covid-free and therefore being safe for visitors and tourists. Skopelos belongs to these islands, too (21/07/2021).
Safe vacation in Skopelos
As the health and safety of our guests and staff is of primary importance to us, "Spyrou Skopelos Experience" applies a full Plan of Hygiene and Safety, according to the guidance of the WHO and the Ministries of Health and Tourism in Greece and makes provisions of all the measures, the specifications and the procedures of safe operation for all the departments of its hotels. All accommodation properties of "Spyrou Skopelos Experience" have "Health First" certification.
"Spyrou Skopelos Experience" provides 4 of the best accommodations in Skopelos and ensures an exceptional stay on the island. Rigas Hotel Skopelos is located in Chora of Skopelos, just 400 meters away from the port. Skopelos Holidays Hotel & Spa, also being located in Chora, provides the facilities of Emerald Spa & Wellness.