Spa experiences with a Skopelos aroma
Two brands of Skopelos have announced the beginning of their cooperation in the area of wellness. The hotel group Spyrou Skopelos Experience and the line of Greek natural cosmetic products Euthalia Natural Cosmetic Values presented new signature treatments, which will be offered in the Spa and Wellness of Skopelos Holidays Hotel & Spa. These treatments, like all Euthalia products, are based on natural ingredients and have been inspired by the rich traditions of Skopelos.
The new signature treatments include one facial treatment and one body treatment. The facial treatment Skopelos Natural Facial Detox Therapy by Euthalia has as its key ingredient the beneficial organic olive oil, along with the famous Wild Rose (Rosa Canina) and Cistus (Cistus Incanus), known for their antioxidant action. The natural bioactive formulas with olive oil, cistus, and rosewater rejuvenate the skin, restore its elasticity and give it a natural shine.
"It is a great pleasure for us to welcome to our Emerald Spa & Wellness a line of cosmetics that has been inspired by the long tradition and the unique biodiversity of Skopelos," said Mr. George Michalis, the General Manager of Spyrou Skopelos Experience. "Mrs. Euthalia Stamatakis is an excellent ambassador of Skopelos and her products could not be missing from our hotel, as we are always dedicated to highlighting the remarkable treasures that Skopelos has to offer. The treatments and products of Euthalia at Emerald Spa & Wellness are high-level wellness experiences recommended to everyone visiting Skopelos this summer."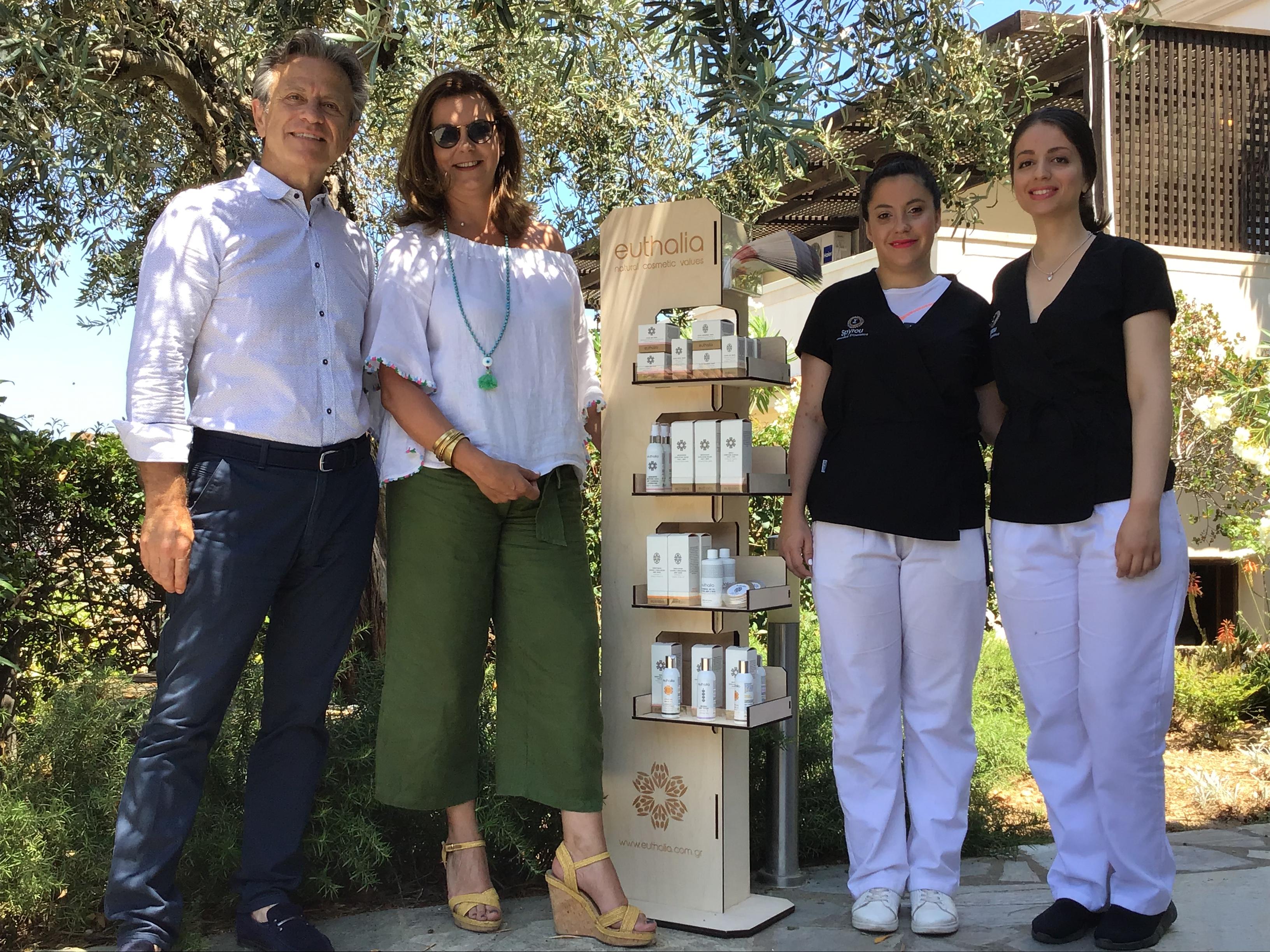 "It is a great pleasure for me that Euthalia's introduction to the spa industry is taking place here in Skopelos, the island that gave birth to and inspired our company," said Euthalia Stamataki, founder and CEO of Euthalia Natural Cosmetic Values. "We were particularly honored with the proposal of cooperation that we received by Spyrou Skopelos Experience to have a presence in the Emerald Spa & Wellness at Skopelos Holidays Hotel & Spa. This is a joint effort to promote our island".
With more than 40 years of operation, Spyrou Skopelos Experience is the largest hotel group in Skopelos with five hotel units, one spa, and restaurants on the island. The group belongs to the Spyrou family, which has been active in the field of tourism and commerce through Spyrou Group of Companies. The five-star Skopelos Holidays Hotel & Spa is located in Skopelos Town and is a member of Spyrou Skopelos Experience. It has 48 rooms, designer suites, bungalows with a private pool, and the Emerald Spa & Wellness, which offers the new treatments of Euthalia.
Euthalia Natural Cosmetic Values ​​was founded by Euthalia Stamatakis in 2012. In the heart of the Aegean Sea, grandmother Euthalia learned how to use local herbs for everyday household needs. Her unique recipes for soap and beeswax cream —filling the house with the fresh scent of cleanliness and imparting to her skin a wonderful, healthy glow— inspired her granddaughter Euthalia to establish Euthalia Natural Cosmetics Values. The company offers Greek natural cosmetic products with absolute respect for nature. Adopting a holistic approach, they combine the latest finds of cosmetology with a deep understanding of the properties of natural ingredients. 100% natural, with increased efficacy, they feature the highly beneficial organic olive oil as a key ingredient, combined with anti-oxidants like wild rose and cistus. The company bears the name of the woman that inspired its creation. By trick of fate, the Greek word "euthalia" also describes a state of flourishing and prosperity— a promise for beauty and wellness by the eternal power of nature and the traditions of the Greek culture.
Euthalia Stamatakis
George Michalis