In recent months, the ancient shipwreck of Peristera in Alonissos has attracted a lot of interest for becoming the first Underwater Archaeological Museum of Greece. Nevertheless, a more recent shipwreck is also intriguing attention: the shipwreck "Christoforos" located in Panormos Bay of Skopelos. (Learn more about the Underwater Archaeological Museum in the Northern Sporades)

The history of the cargo ship "Christoforos"
The cargo ship "Christoforos" was built in January 1950 at the Grangemouth Shipyard in Scotland. It was originally named "Thomas Hardi".   From 1968 to 1975 the ship made commercial voyages under the name "Birling". Finally, in 1976 it joined the Greek merchant fleet under the name "Christoforos". The length of the ship was 85 meters while its width was about 13 meters.
The timeline of the sinking
In October 1983, "Christoforos" departed from the port of Volos, with a haul of 2,600 tons of cement. Due to a sudden change in weather, the ship developed a seven-degree list to the right. The ship was taken to the bay of Panormos in Skopelos and, after unsuccessful efforts to recover it, it capsized and eventually sank. Almost 38 years later, "Christoforos" remains upright on the seabed of Panormos.
Diving in the shipwreck "Christoforos"
"Christoforos" is one of the best-preserved shipwrecks in Greece and a popular diving destination in the archipelago of the Northern Sporades. Travelers who want to discover the experience of diving in Skopelos have the opportunity to follow specialized diving training programs organized by the Skopelos Diving Center.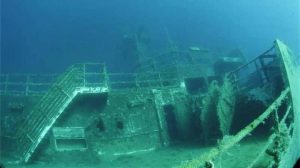 Diving in sea shipwrecks is a great way to discover the natural environment and the culture of a place. The Skopelos Diving Center has been created and supported by young people with a real zest for diving and a deep love of Skopelos.
"Spyrou Skopelos Experience" and the Skopelos Diving Center offer the possibility of organized diving tours starting from Skopelos Town (Chora) or Panormos Bay. (Learn more)