Greece is one of the most popular tourist destinations in the world due to its natural beauty, its diversity and its history. The endless blue of the Mediterranean Sea and its enchanting, safe beaches make it the ideal summer destination. The Greek islands offer a fairly laid-back culture and emphasize the enjoyment of life, with everything it has to offer.
These are some handy tips for your summer vacation in Greece:

The tour of the Greek Islands
Some of the Greek islands have airports with direct international flights (See how to get to Skopelos by plane). However, if you plan to visit many islands and explore different parts of an area, of course, the best way to travel economically between these islands is by boat. There is a variety of shipping companies that connect the islands. Prices and schedules can vary dramatically, especially if you travel before or after the peak season. It is a good idea to book your ferry tickets early on and leave nothing for the last minute.
The budget
The budget for your trip to a Greek island can vary a lot. It is a matter of where you want to stay and whether you are looking for additional services. Keep in mind that prices tend to be higher in major resorts and popular destinations, especially during peak season. You may also need a budget for activities, especially if you are going on excursions to sea parks (such as the Northern Sporades), beaches or important historical monuments.

Eat and drink like a local
You can expect plenty of good food on your trip! Food is a casual affair in Greece. Look out for the restaurants where the locals dine in as the food quality will be much better. Just remember that Greeks eat late – often after 10 p.m. The Greek cuisine offers many options for vegans and vegetarians, but also varieties of meat and fish. In fact, the Mediterranean diet is considered one of the healthiest in the world. Always ask for local barreled wine or try ouzo or tsipouro to accompany your meal.
Which day should I travel to the Greek islands?
It is best not to choose Sunday to travel in the summer. Unless it is a large airport, there will be a lot of traffic. The same is true if you are traveling by boat. The hot summer sun and the possible delay from the crowds may spoil your mood.
What clothes do I need for Greece in the summer?
Choose light fabrics that are easy to wash and dry and avoid dark colors. You don't want to wear a black T-shirt under the midday sun. Comfortable, walking shoes are a must if you want to explore the island. If you are a woman, you should know that it is difficult to walk on the cobbled streets of the Greek islands so leave your heels at home and get comfortable, non-slip shoes and a pair of flip flops for the beach. There is no reason to bring a lot of clothes, as you will probably not need them. (Weather in Skopelos)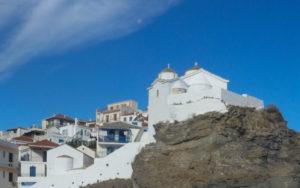 Which period should I choose to travel to Greece?
Do you want to visit the countless beaches and enjoy the warm weather? Then the appropriate period is from June to September. On the other hand, for sightseeing, hiking and exploration the best season is from late March to early June and from late September to early November. The Rigas Hotel in Skopelos is open all year round to offer you unique experiences.
What should I do when I exchange currency in Greece?
Greece's currency is the euro. If you come from a country outside the Eurozone, you can exchange currency in your country or use an ATM in Greece. Before your trip, consult your bank for their foreign currency conversion fee. Some banks charge 0%, but other banks charge 3% or more. However, credit cards are used in almost all commercial shops, hotels and restaurants.
Whatever type of traveler you are, you will not be disappointed with your trip to Greece. Whether you like beaches or mountains, winter or summer, relaxation or parties, a trip to Greece will be the best choice for a vacation. In Greece there are about 6,000 islands and islets. Of all these islands, only 117 are inhabited. Of these, only 79 have a population of more than 100 inhabitants and only 53 have more than 1,000.