The radiant summer sun is slowly fading. The turquoise waters of the Aegean are cooling down. Skopelos gets filled with autumn colors and fragrances.
Autumn is the perfect time to visit Skopelos and experience another side of this beautiful island, without the crowds of tourists. The Town of Skopelos (Chora) is one of the most interesting places on the island. Its unique architecture and its beautiful cobbled streets attract the eye of every visitor. It is worth exploring its paved alleys, admiring the little churches and enjoying the view from the Castle, the highest point of the old city. If you get lost in its streets, just go downhill and you will always end up at the port.
Traditional cafes are slowly being filled by locals who discuss the news of the day. At the same time, beautiful scents of freshly baked Skopelian pies are filling the air.
Even if it gets too cold for a swim, you should definitely visit the beaches as no words can describe their unique landscape. Their turquoise blue waters and the vibrant green of nature create a breathtaking scenery.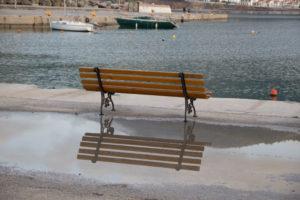 In addition, you can discover more about the history of Skopelos. Some attraction of Skopelos that are worth seeing are  the the house of the author Pavlos Nirvanas that has been converted into the Museum of History of Skopelos, the Folklore Museum in Chora, the famous chapel of Saint John at Kastri, the ancient cemetery of Sentoukia, the Monastery of Aghios Riginos, the Asklepieion, etc.
Finally, if you are a hiking lover, Skopelos is a verdant island of pine trees and offers beautiful hiking paths across its countryside.

Where to stay in Skopelos
Spyrou Skopelos Experience keeps one of its 4 hotels open during winter. Rigas Hotel is open all year round and offers affordable accommodation and breakfast. We also offer affordable long term accommodation with our Sunny Skopelos Winter Residence initiative.
During the winter, there is a ferry connection to the island from the ports of Volos and Mantoudi. Spyrou Skopelos Experience offers up to 35% off the ferry tickets from Volos Port to Skopelos.
If relaxation plays a key role in your vacation, then Skopelos is the perfect place for you. An island that will surely give you an unforgettable travel experience!